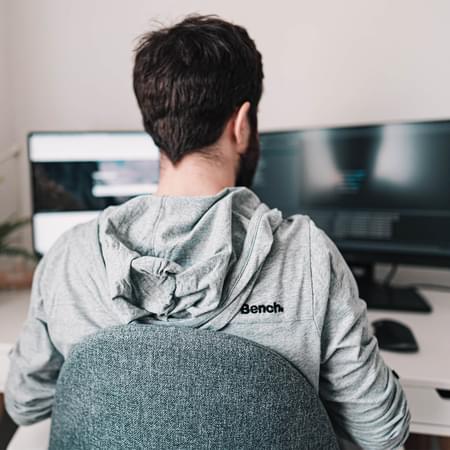 Working from home - what's the real cost and how can you make it pay off?
Working from home - what's the real cost and how can you make it pay off?
Millions of workers across England will continue to work from home until at least early summer after Boris Johnson added an extra month to current Covid restrictions. But what's going to happen when things "go back to normal" remains to be seen.

Some companies have already closed or reduced their office space following the pandemic, while others have said it will be back at the desk 'as normal', which means two feet away from a colleague eating a tuna melt for lunch.
But 85% of us who are currently working from home want to adopt a "hybrid" approach and split our time between home and the office, according to the Office for National Statistics (ONS).
If you've been able to work from home in this crisis, and if you expect to keep doing so once we're out the other side, then what do you need to know to keep your costs down and your benefits up?
Here are some quick and easy wins:
Take a tax break
If your employer requires you to work from home, you've always been able to claim for increased costs such as heat or electricity for the specific time at home.
Yet during the 2020 lockdown, HM Revenue & Customs (HMRC) launched a 'microservice' which, even if you only needed to work from home for a day, allowed you to get a whole year's tax relief.
That now applies for the new 2021/22 tax year too – meaning many are due two years' relief, worth £280.
It's designed to help people who are working from home cover the extra pressure on their bills, and it's easier to apply than you might think - you don't even need to keep receipts.
If you're working from home now you may be able to claim £280 in tax relief for the last two years
Don't sweat the thermostat
Last winter, more people than ever were working from home and using more energy to keep themselves warm and online.
As a result, figures from comparethemarket.com found that household bills increased by an average of £113 between January and March alone.
And while it may seem the wrong time of year to think about heating bills, the summer is a great time to take stock of your energy bills as you'll typically be in credit to your supplier so you won't have any outstanding charges or debt to pay to your current supplier if you choose to switch.
If you're on your energy firm's standard tariff then you could potentially save hundreds of pounds a year by moving to a more competitive deal.
It's easy, it's fast and it can really save you cash. You can start here with one click.
Work out your commuting costs
Staying home really brings down commuting costs, you don't need a season ticket to get from your bed to your kitchen table.
But if you are home for some days and in an office via a train journey for others then you may not be able to take advantage of a season ticket, meaning your individual journeys will actually cost more.
However, from this month, you can buy flexible season tickets, which enables you to travel unlimited between two stations on any eight days in a 28-day period.
Although the new flexible season tickets apply to National Rail operations in England, they are available on cross border commuter routes, for example Bristol to Cardiff, or Berwick to Edinburgh.
But do your sums in advance. While the government estimates average savings of up to £350 a year, critics of the scheme claim that commuters will only make any savings compared with a walk-up ticket if they travel at peak times for all eight days a month.
Call your car insurer
If you're continuing to work from home at least some of the time then talk to your car insurance company about whether the price could fall because you're doing fewer miles.
And if you are fully home-based now then switching your policy to just 'social use' could also bring the cost down, just make sure you let your insurer know if you do start driving back to the office.
If they can't help you then make sure you shop around to compare policies to see if you can get a better deal.
If you're fully home-based now then switching your policy to just 'social use' could also bring the cost down
Resist the treats
Not going out to an office each day can save you lots of money on small, everyday treats like a coffee or lunch out with colleagues.
However, being home all day and ready to collect parcels has its own risks. The temptation to shop online in your lunch break, just to have something to break up the monotony a bit, can be huge.
And it's alarmingly easy to persuade yourself to spend money shopping when you know you're saving on other costs like commuting. Eventually, you can end up spending more than you did before.
So, set a shopping budget each month and stick to it. In fact, spending half an hour drawing up a budget is one of the best ways to gain complete control of your finances.
Find a cheaper gym membership
Lots of money-saving articles suggest ditching the gym and going for a run. This isn't the right answer for everyone, but you might be able to save some extra money on your gym membership fee right now.
Working from home can make it easier to go to classes or work out at lunchtime instead of on the way home from work when gyms are at their busiest (and sweatiest). And some gyms offer a reduced cost membership if you visit in the middle of the day rather than at their peak times.
If you don't plan to swim, then there is no sense paying a monthly fee. Maintaining a pool tends to drive up monthly club costs and memberships fees and can quickly leave you out of pocket.
If it's fitness classes that you are most tempted by, consider getting just a class card so that you're only paying for the instructor and space when you need suggestions.
You could save money, avoid lunchtime shopping sprees and free up your evenings for seeing all the friends you've missed over the last year. It's a triple win.
Don't forget that while you may think that this article is brilliant, it is intended for information purposes only and should not be mistaken for financial advice or recommendations.
3 things
to do
right now
---
1
Take a few minutes and unsubscribe from company emails with Unlistr. Simply sign up and it scans your inbox and compiles a list of your email subscriptions, which you can edit.
2
Do you need to print things out? Post things? Any costs involved in normal office activities should be covered by your employer. Speak to your boss to find out what you can expense each month and keep all receipts.
3
If you're planning on signing up for a gym membership, make sure that you do it at the end of the month, when the sales team is trying to close last-minute deals to reach their quota. This is the best time to ask to get a deal.
Has this page made you feel better about managing your money?
---