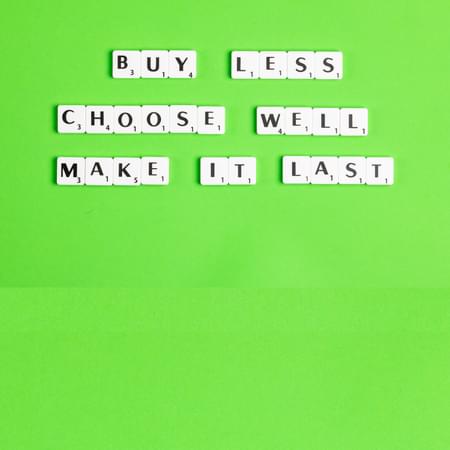 How you could be more ethical with your finances
How you could be more ethical with your finances
We get it. You refuse plastic bags and your toothbrush is bamboo. Now what?
How do you reduce your impact on the environment without ending up knitting your own tofu in a muddy off-grid yurt?
How, with real life, work and family stress can you up your game as all those headlines and documentaries about climate change and pollution get worrying?
How to get started
Being eco-friendly doesn't immediately shout 'cash saving,' at least not with all the #eco Insta shots floating around of whitewashed linen in sunny walled gardens.
But being environmentally aware isn't just about paying £10 for four metal straws. It's way simpler than that.
Because everything you can think of has both a financial cost and a carbon cost, being green is more often about taking care of what you have.
Mending, borrowing, renting or, at a push, buying second hand will keep more cash in your pocket while reducing your impact. It's a good win-win.
Take your laptop, for instance.
Abused by endless home-schooling, homeworking and home entertaining in the last year, you could trawl the soulless out-of-town shopping centres for a new version, or you could pick up a similar second-hand product for as little as 20% of the new cost.
So not only are you doing your bit for the environment, but you are also getting a good deal too.
Brits are among the worst e-waste offenders, ditching an average of 24 kilograms of tech per person every year. So retraining our purchasing decisions could make a massive difference to the environment.
Slot the saving away for that all important emergency cash stash or, more likely at this stage in the game, the holiday fund.
But these measures pale into insignificance compared with the carbon, pollution and cash savings you could make by tackling some of the services we rely on every day.
Go green with your household bills
About 40% of the UK's CO2 emissions are created in the home, according to the Committee on Climate Change, so opting for a low-carbon source of electricity could be one of the simplest ways to make an impact.
There are plenty of options for ethical energy choices available these days, offering electricity sourced from renewables such as wind and solar power.
However, many of us assume that switching to a green energy supplier is more expensive.
But while renewable energy tariffs tend to be a little more expensive than standard ones, they are becoming more competitively priced as the choice of deals grow.
What's more, if you install renewable technology in your home, you might also be able to benefit from government schemes that promote the use of green energy.
When it comes to going greener with your gas bill, it can be trickier.
Each year, UK homes emit an equivalent amount of greenhouse gas through heating and cooking as we do driving around in petrol and diesel cars.
That means curbing our use with a few small tweaks like keeping an eye on the thermostat, throwing on a jumper rather than cranking it up in chilly moments, putting lids on pans when cooking and drawing curtains as soon as it gets dark can yet again save cash and carbon.
Meanwhile, though you can't switch your council or water supplier to a more responsible option, you can always challenge them on their actions and policies as well as flexing your voting muscles in elections based on past attitudes to and future promises on climate and pollution.
Brits are among the worst e-waste offenders, ditching an average of 24 kilograms of tech per person every year
Don't overlook your banking choices
Half of our personal annual carbon footprint is the result of the way we bank everything from savings and lending to mortgages and investments.
The links between our cash and the environment might not be immediately obvious, the companies to that your banks lends money to, or in which it invests, may not align more with your ethical values and concerns.
For instance, research from Bank Track shows that over the last five years, the world's 60 biggest banks have financed fossil fuels to the tune of $3.8 trillion.
Eighty percent of us have no idea what our bank invests in according to research for Market Forces, a campaign group battling to stop banks funding climate change.
However, according to the survey, one in ten customers say they are now 'very likely' to switch banks because of their bank's climate record.
But where could you move your cash to do your bit for the planet?
A deep dive into the internal policies and voting records of the UK's 36 key providers by Ethical Consumer magazine found just two – Ecology Building Society and Triodos Bank – got its top rating for climate responsibility. Elsewhere Nationwide, Co-operative Bank and Starling emphatically state that they do not invest in any fossil fuel companies.
Then there are our investments.
Finding a climate-friendly solution for our investments through our Isa choices sounds like a nice problem to have but it applies to more of us than you might expect.
Three-quarters of UK adults now have a workplace pension, for example, and almost all of us have stuck to the default allocation.
There's around £3 trillion invested in UK pension funds and these funds can invest money on our behalf, into companies that do harm, supply chains that are unsustainable, and industries that accelerate climate change.
It's worth checking with your employer how that pot of cash is invested to ensure it matches your preferences on climate responsibility (and everything else for that matter).
If you find you're carefully squirrelled away savings are invested in weapons, tobacco products, fossil fuels or industries that don't align with your values  - you could make a change.
And the impact could be greater than you'd think:  research from Nordea, a leading Nordic universal bank, suggests that making sure your investments are sustainable can have 27 times more of an impact on your personal CO2 footprint.
Don't overlook the impact of your children's finances
Whether it's the nest egg or the kids' Junior ISA, you can't have a conversation about investments without ethical or green questions cropping up almost instantly – either when discussing businesses to invest in or, more often, the funds that invest in a whole range of them on your behalf.
They're broadly termed Environmental, Social and Governance (ESG) investments.
Why does this question come up? Because a growing awareness of the climate crisis is seeing an increase in investments in ESG funds.
With the world waking up to the risks and opportunities around climate issues and governments starting to introduce laws to help save the planet, more people are looking at ways to make a difference and become more environmentally friendly. Therefore, there's a greater appetite for investment products to align more with peoples' ethical values and concerns.
Even as the pandemic hit us, the amount of new money invested in ESG funds more than doubled in 2020 compared to the previous year, according to Morningstar.
However, it's important to check exactly what you are investing in is actually environmentally friendly as 'greenwashing' – the false claim of being green – is rampant.
To wrestle back some clarity without getting lost in dense information, it's vital to take a step back, have a chat with an independent financial adviser about your ESG priorities before exploring the subject further.
You could discuss, say, whether protecting the environment is less, equally or more important than supporting businesses that promote women's rights or fair pay.
Are you most excited by clean energy or green technology, for example?
Will you only invest in businesses that are already smashing it out of the park on the green credentials, or are you willing to invest in companies that are simply improving?
With all that set up you'll be in a great spot to decide what ESG means to you.
Finally, your financial adviser can help you work out what you need and want from your investments in terms of returns, your risk appetite and timescales, and how that all fits to your wider financial circumstances.  And don't forget that the value of investments can go down as well as up and you could get back less than you paid in so think carefully before investing and always prepare to invest for the medium to long term (5+ years).
Get on top of that little lot and you'll be on your way to reducing your carbon footprint and saving a bunch of everyday money – all without costing the earth.
The information in this article is not to be taken as financial advice. Before making any financial decisions always do your research or speak to a financial adviser.
3 things
to do
right now
---
1
Go to the Where can I move my money to? campaign website for ethical saving suggestions.
2
Check the ethical credentials of a wide range of saving and investment products with The Ethical Investment Research Service.
3
Shop local to reduce food miles and fossil fuels.
Has this page made you feel better about managing your money?
---