Energy Price Rise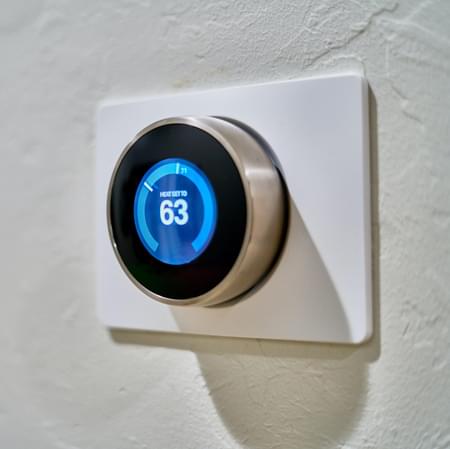 How to take control of your energy bills this winter and save money
How to take control of your energy bills this winter and save money
Energy Price Rise
If rising gas prices have you dreading the winter bills, don't panic. Whether you own your home or rent a property, there are ways that you can cut costs while you wait for things to calm down a bit.
Here are ten ways to get started – and none of them involve popping on an extra jumper.
Freshen up the backside of your fridge-freezer
Running a fridge-freezer costs around £40 a year to run according to data by Carbon Footprint, because it's one of the few appliances that you must keep on the whole time.
When was the last time you cleaned the condenser coils on your fridge?
Never, perhaps?
The coils on the back of your refrigerator are part of the condenser that cools room temperature air right down ready to keep your food cool.
However, they can get pretty dusty and dirty, especially since we rarely have cause to move the fridge-freezer once it's up and running so it's easy not to realise how much dust is accumulating.
As they get dusty and dirty, they become less efficient and so it takes more energy to cool the air down.
Once a year, give them a dust or clean with a duster or the suction nozzle of a vacuum cleaner.
You will need to unplug it temporarily though to do so.
Turn off the telly
The average household has the TV on for 6.5 hours a day and costs £50 a year – and when it's not switched on, it's the item most likely to be left in standby mode.
Keep your costs down by setting the backlight to minimum and adjust the brightness settings, as these can drain electricity.
Turn the TV off instead of leaving it on standby overnight and set your TV to 'eco-mode', if it has this feature.
Batten down the hatches
Draught-proofing is one of the cheapest and most effective ways to save energy – and money – in any type of building. Reducing the gaps around windows and doors could save you around £25 per year, according to the Energy Savings Trust.
If you have an open chimney, draught-proofing your chimney when you're not using it could save around £18 per year.
Internal doors need draught-proofing if they lead to a room you don't normally heat, such as your spare room or kitchen.
Keep those doors closed to stop the cold air from moving into the rest of the house.
If there is a gap at the bottom of the door, block it with a draught excluder.
The loft hatch is another way that you are likely wasting heat. Use draught-proofing strips and it'll help prevent hot air escaping.
If your radiator is making gurgling, clucking or clanking noises it's often a sign of air trapped in the system
Bleed your radiators to boost your budget
Bleeding a radiator lets the trapped air out of your central heating system so it can work at full efficiency again, keeping your home warm and your energy bills down.
Experts recommend bleeding your radiators once a year, even if you haven't noticed a problem.
If your radiator is making gurgling, clucking or clanking noises it's often a sign of air trapped in the system.
Also look for cold spots on the top, damp patches, condensation and mould. These can be caused by uneven heating – your radiators may well need bleeding.
If your radiator's cold at the bottom, you may have a build-up of sludge which is slightly more complicated and might involve a plumber or heating engineer call-out.
Here's everything you need to know about bleeding your radiators.
The average household is said to waste as many as 7,374 hours of electricity every year when a device is left on standby
Get the kettle on
It might seem more cost effective to boil water in the same pan you're going to use for cooking, after all, the kettle is so much quicker.
But the opposite is actually true. The average kettle is about 80% efficient, while boiling water on the stovetop is only 70% - so do it the easy way and save.
Don't flush your money down the drain
According to the Energy Saving Trust, if everyone in a family of four swapped one bath a week for a five-minute shower, it could save up to £20 a year on their gas bill.
Consider changing your shower head to an eco-version, too. If you do, a family of four can save around £75 a year on gas (and £115 on water if they have a meter).
Be smart with standby
Did you know, the average household is said to waste as many as 7,374 hours of electricity every year when a device is left on standby?
Stuck at home, we're bound to be using our electronic devices more often.
Whether that's while you work, or just because you're binging the latest Netflix hit.
It's natural to leave the likes of laptops, phones, televisions, routers and even printers turned on in the background.
A smart power bar is the perfect way to combat these lost minutes.
This device lets you choose what you want to keep on or turn off at any given time.
Winner.
About a third of all the heat lost in an uninsulated home escapes through the walls according to the Energy Saving Trust.
Layer it up – the house that is
About a third of all the heat lost in an uninsulated home escapes through the walls according to the Energy Saving Trust.
By properly insulating cavity walls, you will save energy and cut costs off your heating bill.
If you are unsure whether your home is suitable for cavity wall insulation, a good rule of thumb is that houses built before the 1990s may not have any wall insulation at all.
The first thing you need to find out is what sort of walls you have.
If you can see the brickwork on the outside of the house, look at the pattern of the bricks.
If your home has cavity walls, the bricks will usually have an even pattern with all the bricks laid lengthways.
If your home has solid walls, the bricks will have an alternating pattern, with some bricks laid across the wall so you can see the smaller ends from the outside.
If the brickwork has been covered, you can also tell by measuring the width of the wall. Examine a window or door on one of your external walls:
If a brick wall is more than 260mm thick then it probably has a cavity.
A narrower wall is probably solid. Stone walls may be thicker still but are usually solid.
Insulating your loft could save you hundreds of pounds a year on heating bills
Look to the loft for savings
A quarter of heat is lost through the roof in an uninsulated home, according to the Energy Saving Trust.
Insulating your loft, attic or flat roof is an effective way to reduce heat loss and reduce your heating bills. However, the process can be complicated so it may be best to employ an expert to do this.
While insulating your loft can cost between £285 and £395 (depending on the size/type of your house) figures from the Energy Savings Trust it can also shave around £135 off your energy bills each year if you live in a typical semi-detached house or £315 if you live in a typical detached property.
Think ahead to bag a bargain
When the sun is shining, winter is usually the last thing on our minds, but if you are thinking of making your home energy efficient, waiting until the middle of the summer is the time to do it.
This is a very seasonal market and the majority of households don't think about installing measures such as loft and cavity wall insulation until the colder weather hits.
Because of this, heating engineers are less busy in the summer months and that could mean a cheaper quote on a replacement boiler or heating system.
So, pop a reminder in your diary for the warmer months – while you are at it, why not squirrel away some extra cash in your savings to pay for the work?
The information in this article is not to be taken as financial advice. Before making any financial decisions always do your research or speak to a financial adviser.
Has this page made you feel better about managing your money?
---